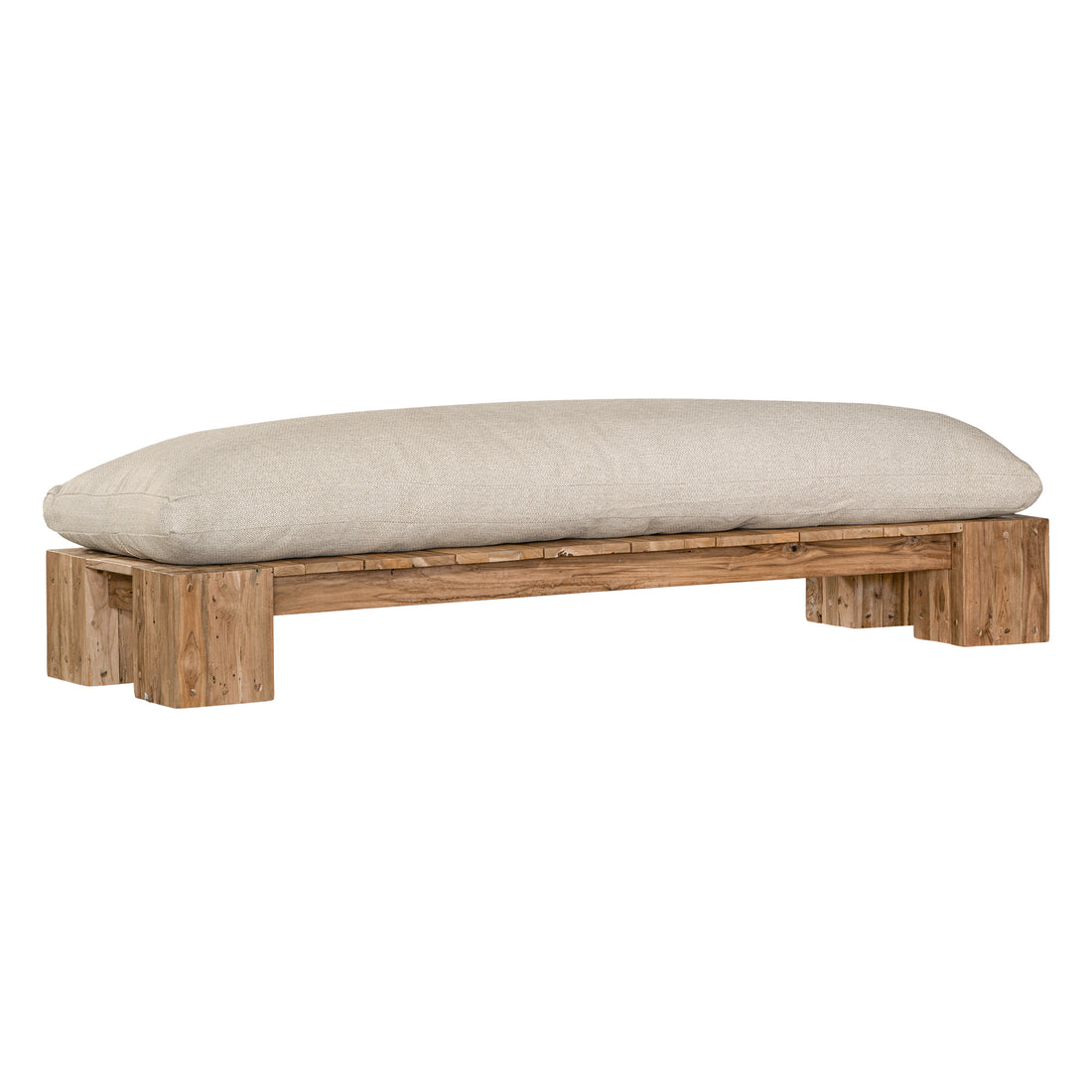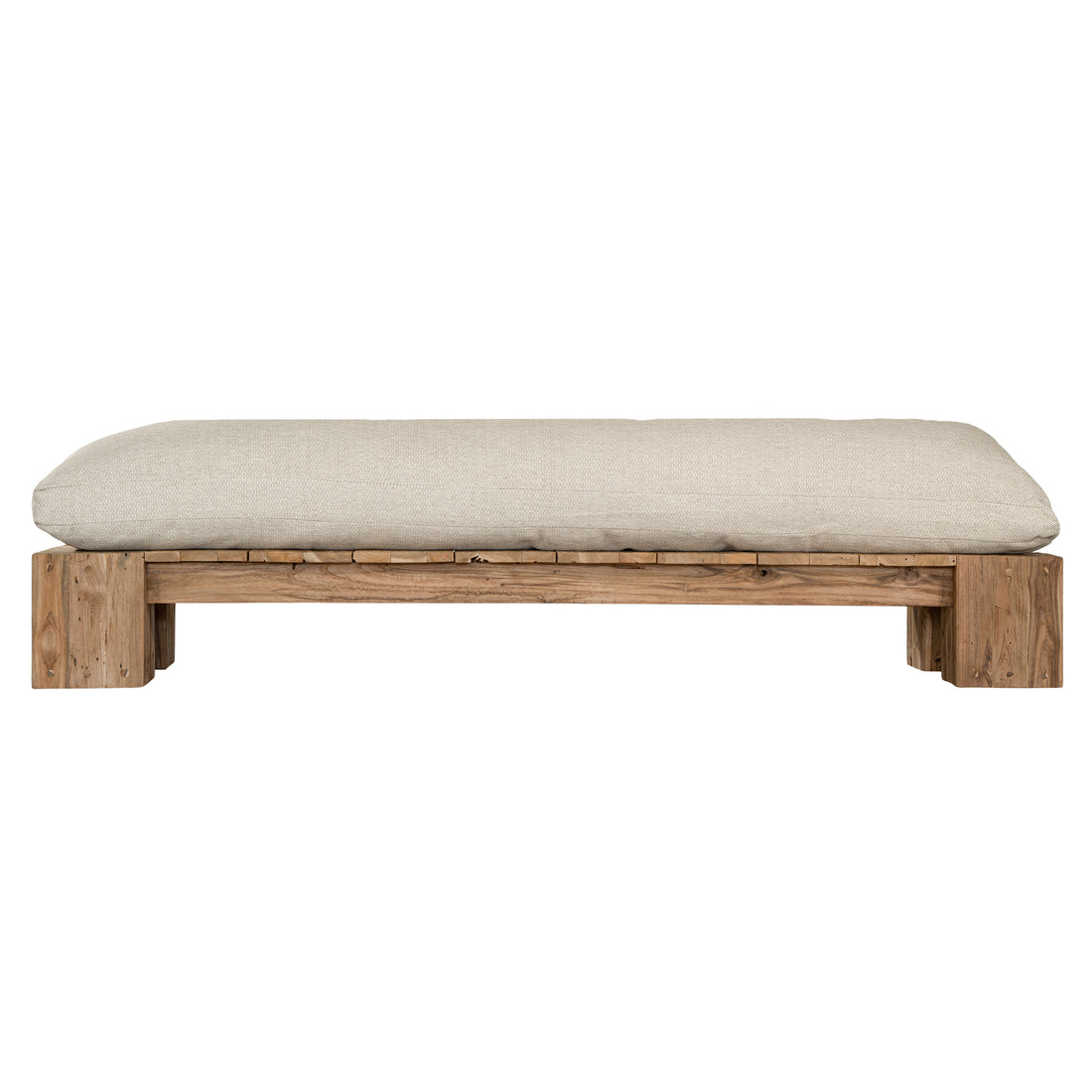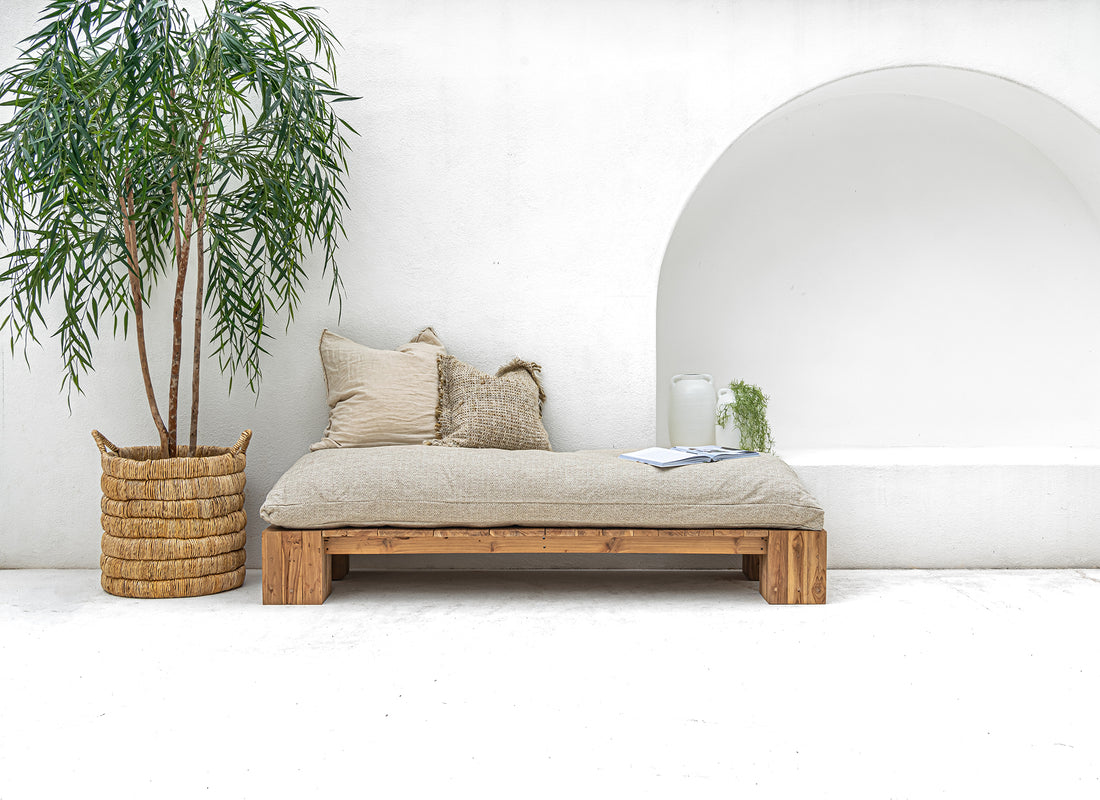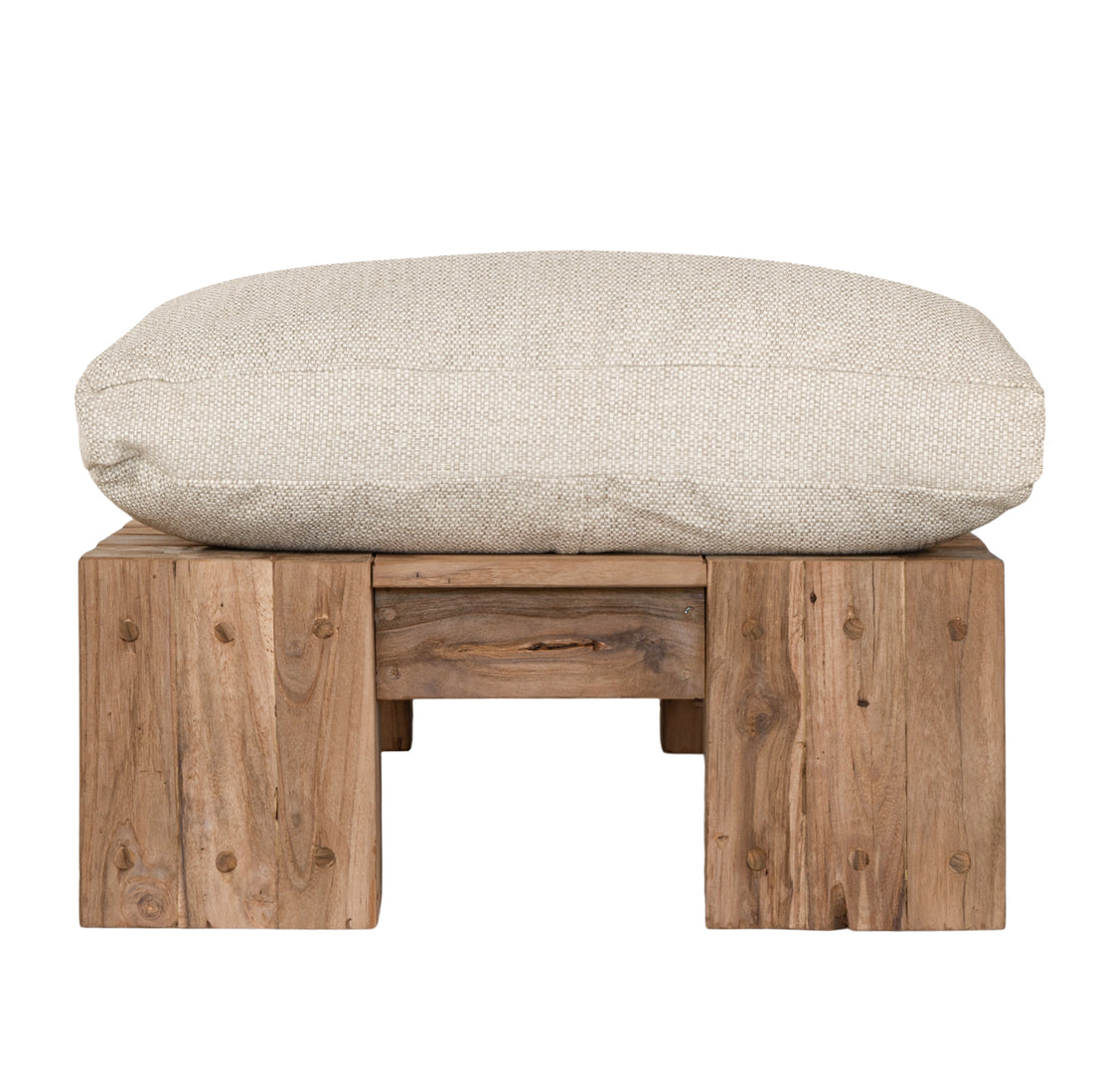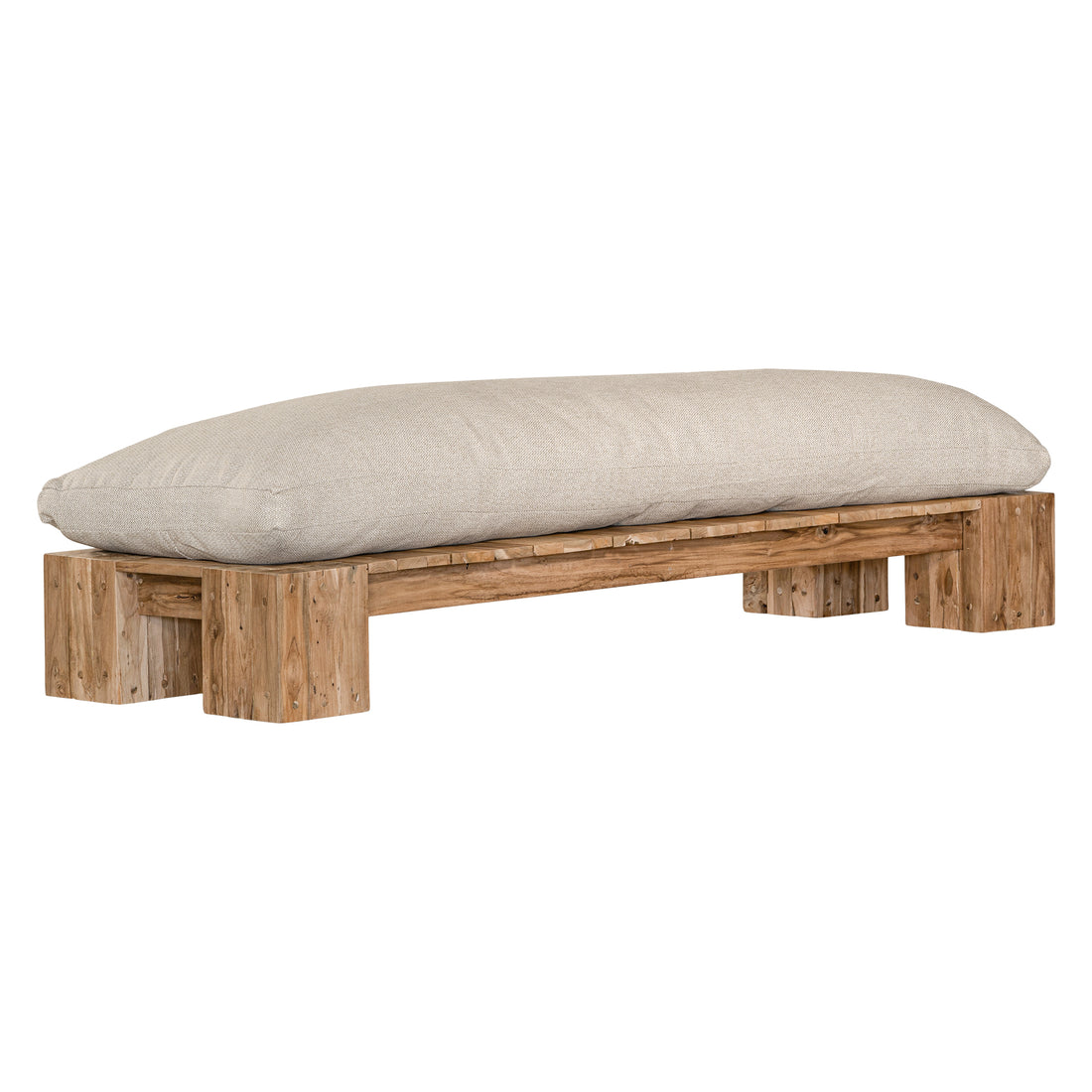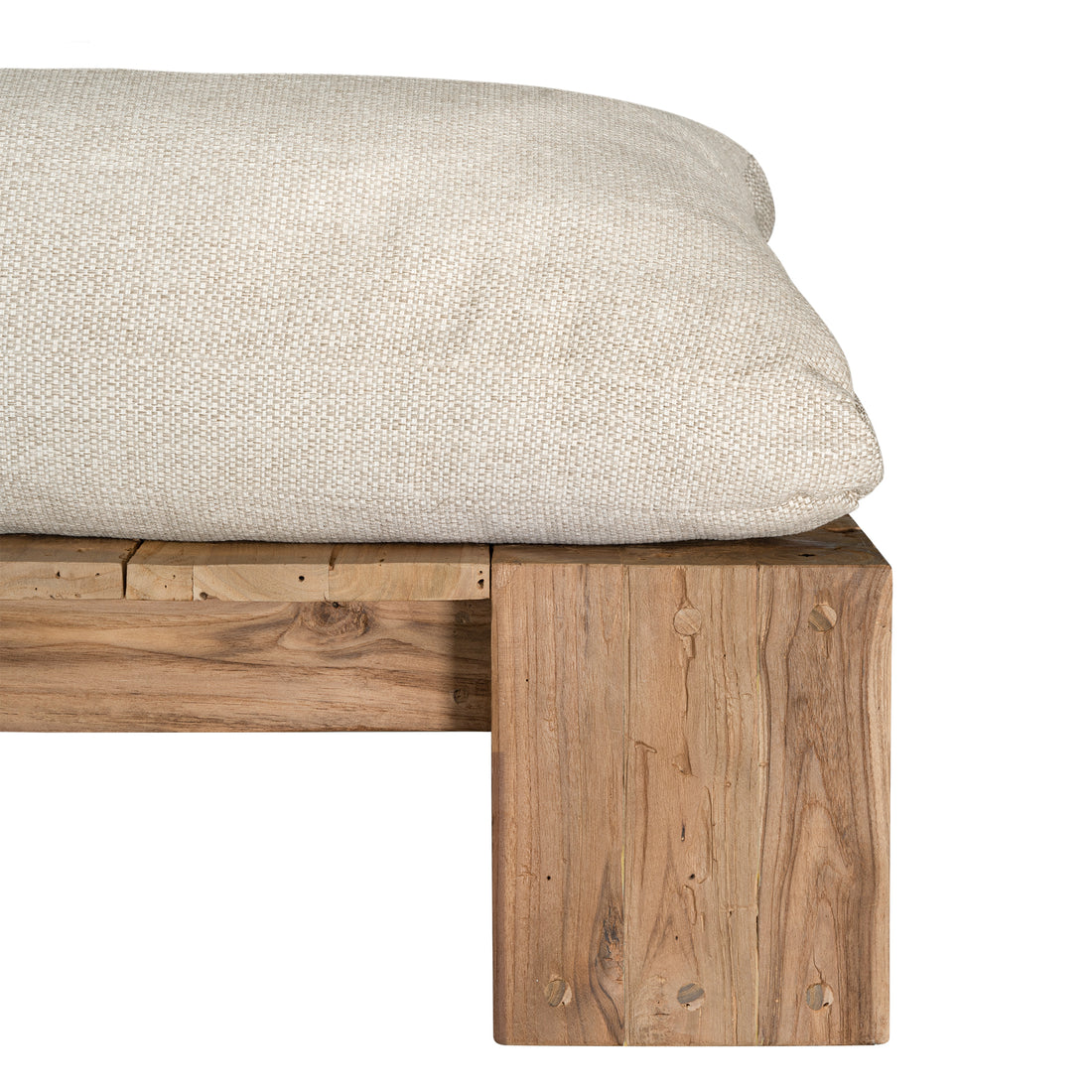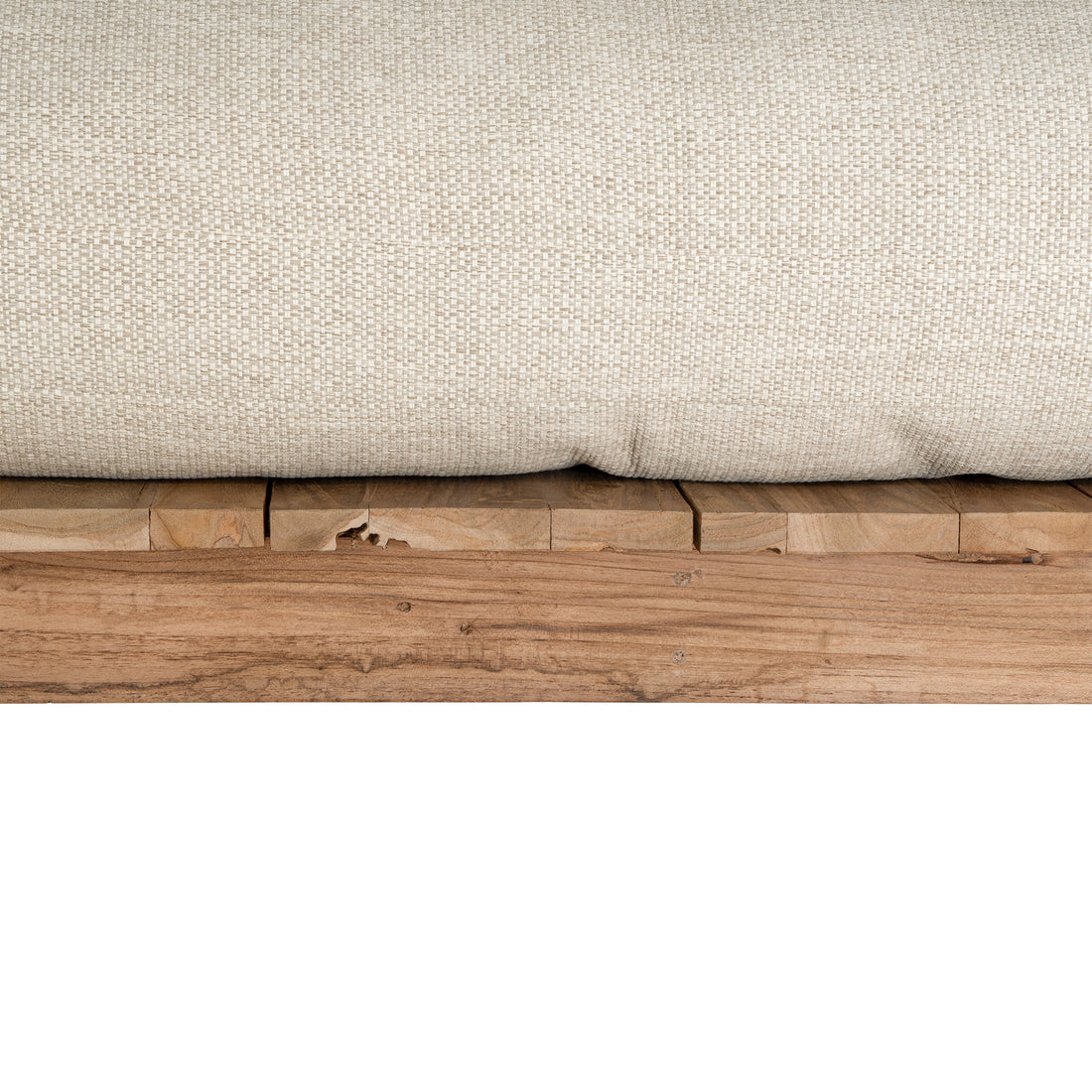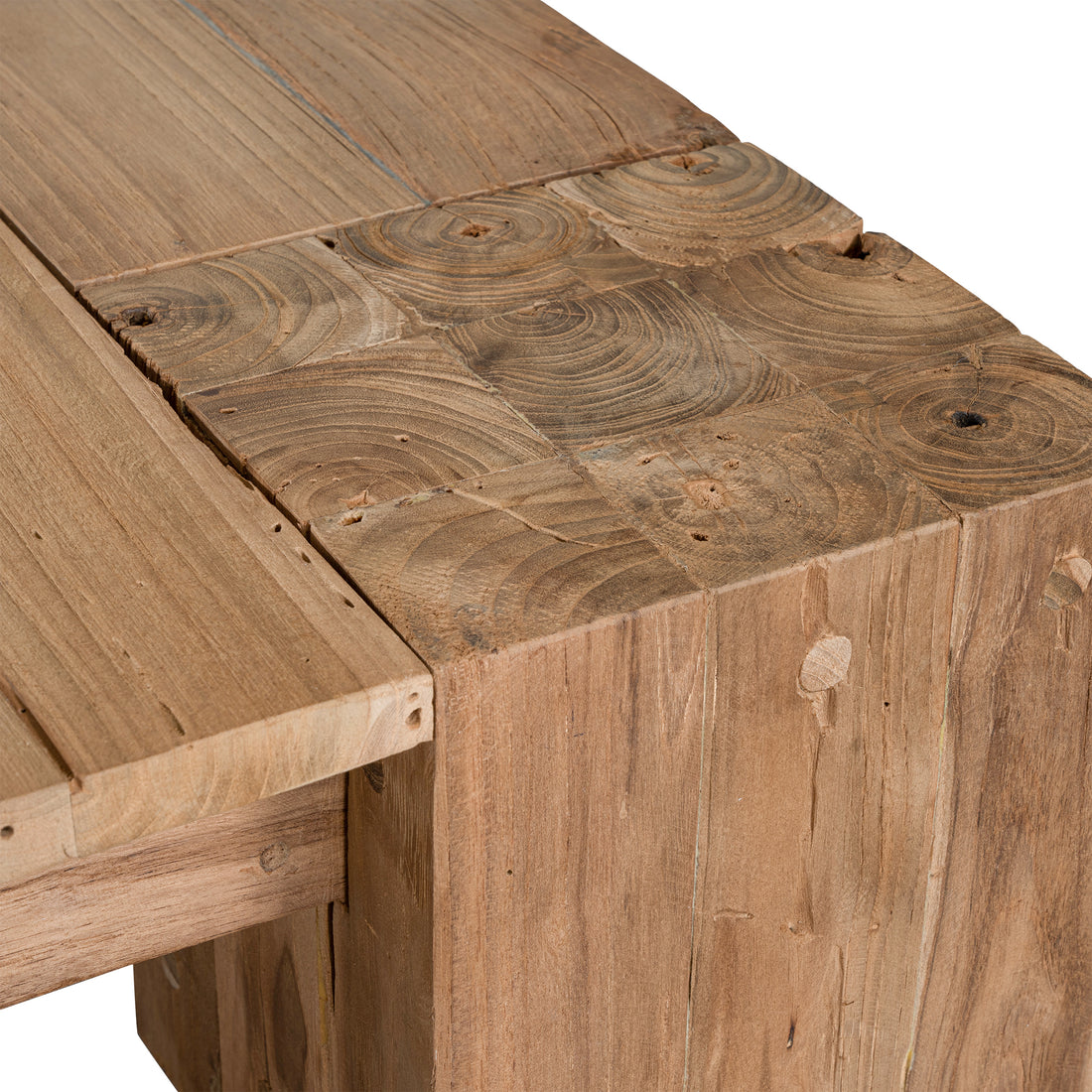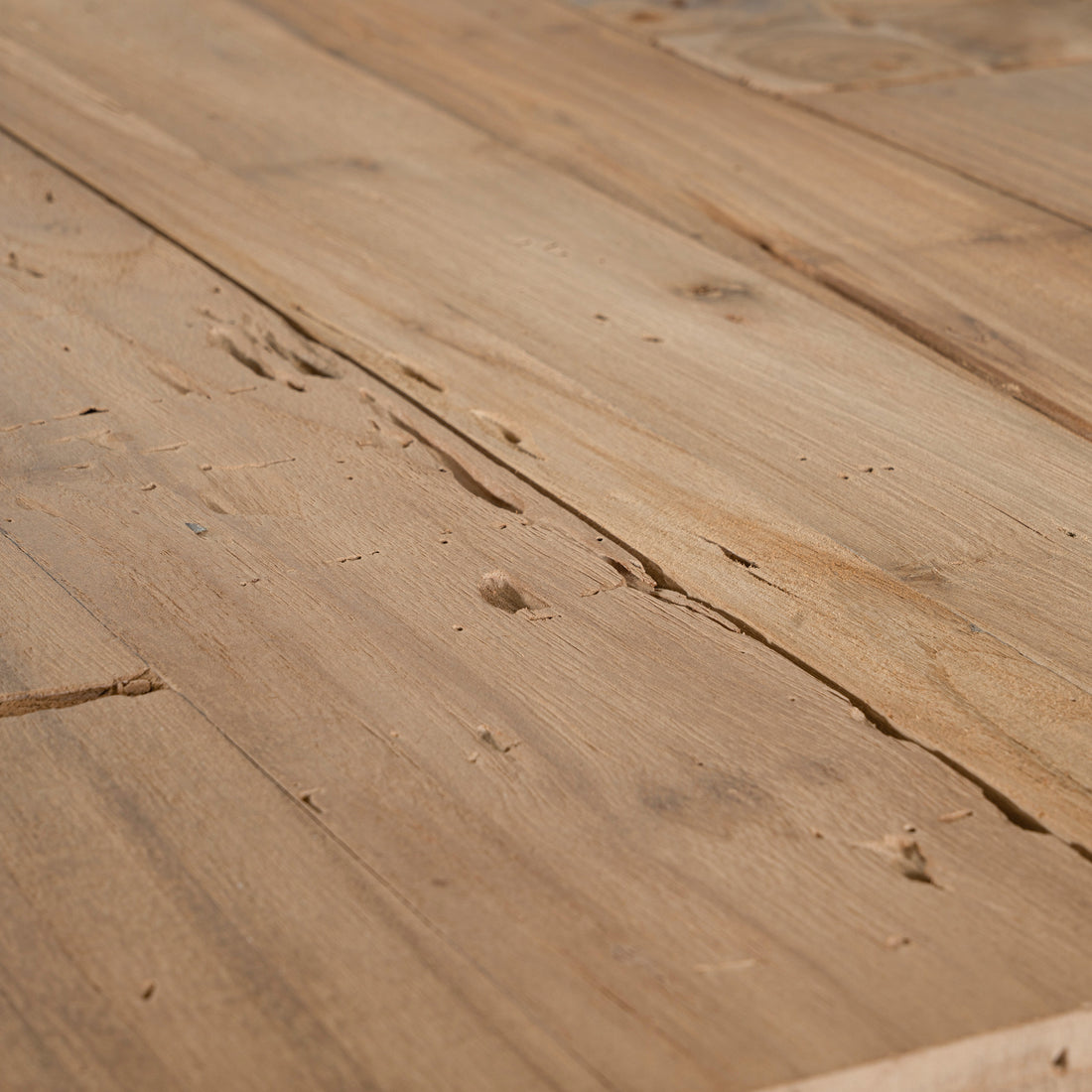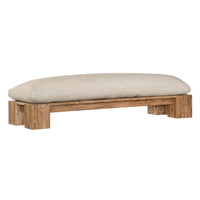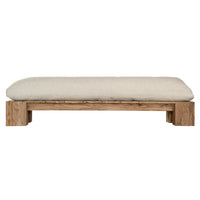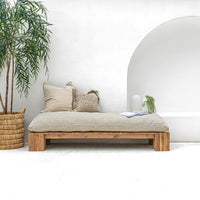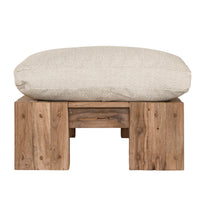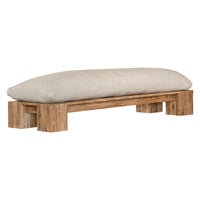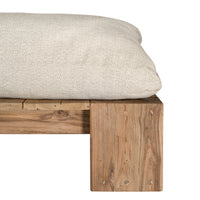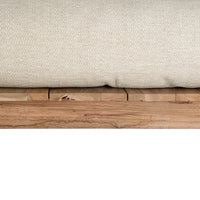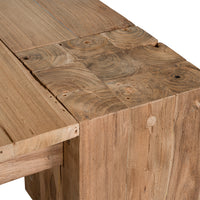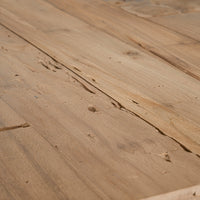 Simbah Bench Low | Luxury Natural
Trade Clients: Please login to view price
Product CodeWC-758N
DESCRIPTION

SPECS

DACRON FILLED CUSHIONS

RECLAIMED TEAK

CARE INSTRUCTIONS

OUTDOOR FABRIC SPECS

MOULD ON FURNITURE

NATURAL MATERIALS
Introducing the Simbah collection - a harmonious collaboration between Uniqwa Collections and the talented Lauren Eloise, based on Uniqwa's Head Designer Charl van Heerden's visionary designs. The collection is a stunning example of the best of modern style combined with the distinct character of reclaimed teak.
The exquisite Simbah collection combines natural beauty and modern style for an elegant and timeless look. Crafted from reclaimed teak, its warm tones are enhanced by the distinct character seen in its aged teak. 
A mix of contemporary design, high-quality craftsmanship, and eye-catching details create a timeless collection that brings sophistication, warmth, and character to any space.  
The solid, chunky square legs balance between sleek minimalism and classic style and provide a sturdy base, while plush outdoor suitable cushions bring texture and offer the utmost comfort.
The collection is perfect for any outdoor living space, with both modern and classic elements making it unique. The look and feel is luxurious and stylish. 
W 65cm | D 200cm | H 26cm
Made for the outdoors.
Frame made from carefully selected reinforced, reclaimed teak wood.
100% Sunproof Olefin upholstery; lightweight, soft, and perfect for outdoor environments, rub rate of 16,000
Dacron and Quick dry foam chip-filled cushion inserts  
Dacron is a synthetic material that dries quickly to prevent creating breeding grounds for mould, mildew, and other micro-organisms. Paired with Sunproof Outdoor Fabric, Dacron cushions mean that your outdoor cushions will not be affected by light moisture, dew, and humidity often experienced in the early morning hours. It is recommended if the cushions are permanently left in full outdoor conditions, furniture covers should be used to increase the longevity.
We recommend covering or bringing cushions inside when not in use for longevity. 
Loved for its unique characteristics and signs of previous life, the teak used in the Simbah collection is sourced from abandoned Javanese buildings and repurposed into this beautiful furniture.
Due to each mark's historical significance, reclaimed teak's distinctive character differentiates it from plantation teak. You can expect the timber to show signs of its former life, such as knots and wood plugs which add life to the Simbah design. These attributes are embraced as a testament to the unique qualities of repurposed teak; they are an integral and sort-after part of the Simbah collection's design process. Every Simbah piece will have unique characteristics as part of the authenticity of the reclaimed teak.
A natural process of teak involves oil moving to the surface of the teak. This natural process of teak oil leaching can cause staining; this can be especially evident if the furniture pieces are experiencing exposure to weather elements, particularly rain.
We do not recommend leaving any furniture outdoors without appropriate covering. We strongly advise covering all outdoor furniture when not in use to ensure its longevity and optimal performance.
Exposure to the elements, such as rain, sun, wind, and dust, can cause premature wear and tear on outdoor furniture and textiles, reducing lifespan.
Exposure to the elements, such as rain, sun, wind, and dust, can cause premature wear and tear on outdoor furniture and textiles, reducing lifespan.
By covering your outdoor furniture when not in use, you can protect it from the elements, preserving its appearance and helping to maintain its structural integrity.
Please note that outdoor furniture covers are not guaranteed against damage, and following proper care and maintenance instructions is essential to keep your outdoor furniture in good condition.
Regular maintenance is necessary to maintain the quality of outdoor furniture. To maintain timber's beautiful natural appearance and character, we suggest regularly coating it with natural beeswax to repel water.
Additionally, it is essential to periodically inspect your outdoor furniture and covers for signs of wear and tear and to replace covers as needed.
Following these recommendations, you can enjoy your outdoor furniture for years.
Premium Australian Protective & Waterproof Outdoor Furniture Covers
Having the proper waterproof and protective covering can help to protect furniture from the harsh climate. The Cover Company's premium outdoor covers will ensure outdoor furniture enjoys better longevity and avoids unnecessary damage or fading. The Cover Company offers customised covers for our full outdoor range. Find the right cover for your pieces here.
We use the premium outdoor fabric Sunproof® Technical Textiles for our outdoor fabric collection.
Sunproof® is a premium outdoor fabric for comfort and long-lasting performance against natural weather. Sunproof® offers colour fastness to light, rubbing, chlorinated pool water, water repellence, soil & stain repellence, antibacterial, anti-mildew and UV resistant.
The fabric is resistant to UV damage and fading. Sunproof® applies excellent ultraviolet-blocking agents, which protect the fabric's polymer backbone from UV radiation. Sunproof® is capable of blocking more than 97% of UV Rays.
Sunproof® fabric is carefully processed and has undergone a special treatment to reduce the fabric absorption of soil and stains. It keeps the material looking clean, fresh and new for longer. Sunproof® fabric is protected by an invisible shield around each fibre to keep the fabric dry and clean.
All Sunproof® fabrics have been stringently tested and passed international standards ASTM G53-96 resulting in a premium fabric with maximum colour fastness to chlorinated pool water, seawater, and rubbing.
Sunproof® fabric is woven from 100% environmentally friendly solution-dyed olefin yarn and is 100% recyclable.
HOW TO CLEAN:
It is recommended to clean your cushion covers using a standard machine wash to 40°, followed by a gentle tumble dry.
The fabric can be ironed at a low setting to remove unwanted creases.
Refrain from drying clean Sunproof® fabric.
Humidity causes mould to grow. Limited airflow and moisture create a microclimate for mould to develop. In some cases, mould will begin growing on furniture, clothing and other contents within the home.
In instances when this occurs, it is not an inherent fault of the furniture, clothing and other contents; rather, humidity or dampness in the air can supply enough moisture for mould growth on any surface. Mould can occur anywhere, and humid climates provide the optimal conditions for the fungi to grow and thrive on any surface.
Every Uniqwa piece has a story…
Our collections are mostly individually hand-made pieces. As most of our products are made from natural materials, texture, colour, and pattern may vary from piece to piece. Reclaimed timbers, naturally weathered materials and off-cuts otherwise discarded are frequently part of Uniqwa design features.
Natural splitting, cracking, and loss of natural oils may occur and form part of the characteristics and beauty of Uniqwa products. These are not viewed as imperfections or faults but as part of timber's natural life and beauty.
We believe the result of using natural materials and hand-crafted elements is a testament to the unique qualities found in materials originating from nature.
As every monitor displays different colour tones, the colour of pictures on our website and social media cannot be taken as a true colour indication of the actual products. Some product tones may appear to vary from catalogue or website images.
Order the Simbah collection
Uniqwa trade clients can order the Simbah collections via email to orders@uniqwacollections.com.au or call our team on 07 5596 0884
General Public can purchase the Simbah collection through Lauren Eloise
For further assistance please call our friendly customer service team on 07 5596 0884 or submit an email enquiry from this page.
Enquiries from outside Australia, please call +61 7 5596 0884 or email international@uniqwacollections.com.au
Charl van Heerden
The Simbah Collection, a harmonious collaboration between Uniqwa Collections and Lauren Eloise, draws inspiration from Uniqwa's Head Designer Charl van Heerden's visionary Hamali Block designs. This extraordinary outdoor furniture collection redefines the concept of outdoor living.
Infused with the essence of Charl van Heerden's design philosophy, which draws inspiration from the beauty of handmade pieces, natural materials, and ethnic cultures, the Simbah collection combines modern style with the distinct character of reclaimed teak. Charl's deep connection to the tribal spiritual community and his focus on modern requirements are evident in these designs, which tell stories through their intricate textures and elements influenced by nature and culture. This design philosophy is an instinctive part of Charl's being.
The Simbah collection showcases solid, chunky square legs that balance sleek minimalism and timeless elegance. With this fusion of contemporary design, impeccable craftsmanship, and textured details, Simbah presents a timeless collection that infuses sophistication, warmth, and character into any outdoor living area.
Lauren Eloise Interior Designer & Stylist
Lauren Eloise is a passionate interior designer and stylist who discovered her love for creating beautiful spaces when she documented her first home build, The Coastal Barn Dream, which instantly captured the hearts of many and set a suburb record when it went to auction. 
The Coastal Barn Dream became a household name and a sought-after location for luxury brand photoshoots. Uniqwa Collections was fortunate to be the first to shoot in Lauren's breathtaking new build. 
Lauren continues to craft exquisite spaces and is on to her second project, combining her keen eye for detail with functional design. Lauren's unique blend of coastal resort aesthetics and country elements has redefined family-friendly living. Proving that a white-on-white resort-style home is the perfect family haven, a crucial aspect for Lauren as a mother of five.
Inspired by the Hamali Block Dining Table, a key piece in Lauren's Coastal Barn outdoor design, Lauren proposed a collaboration. The result is Simbah, a dream collaboration designed in harmony with Uniqwa Collections.