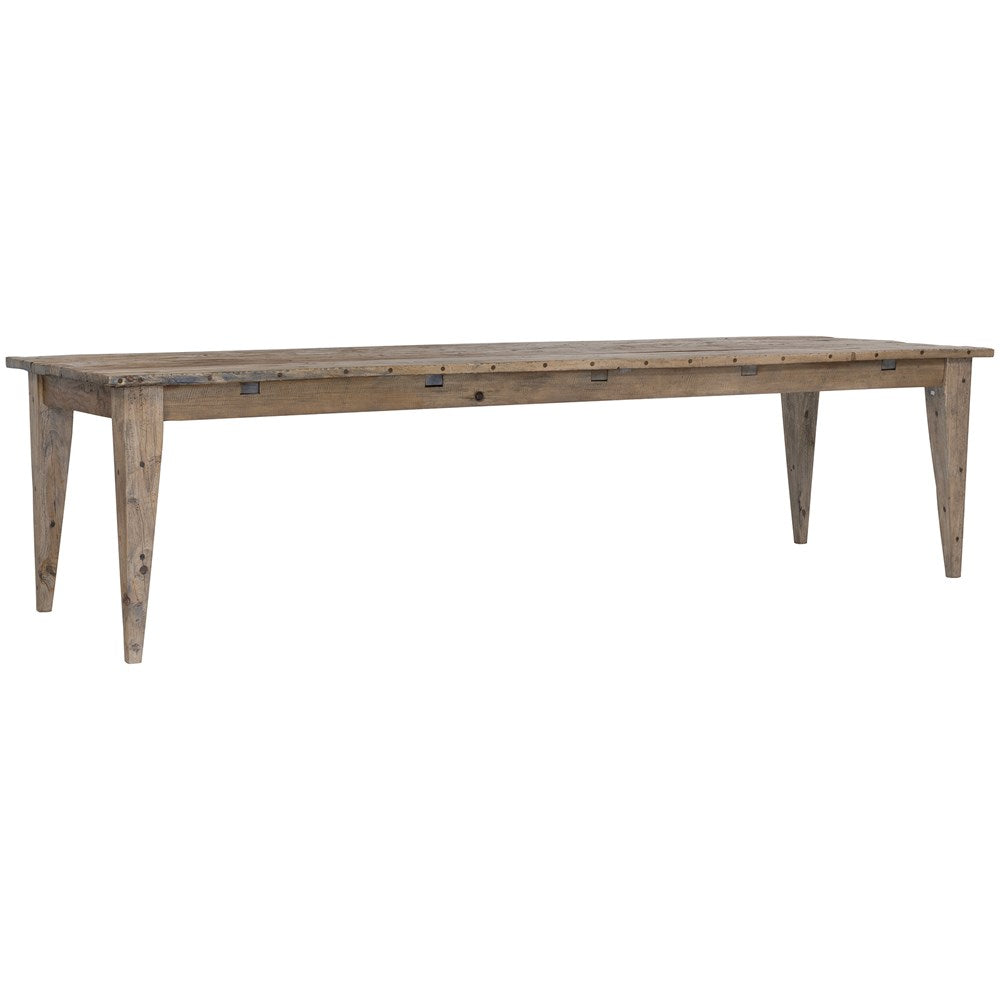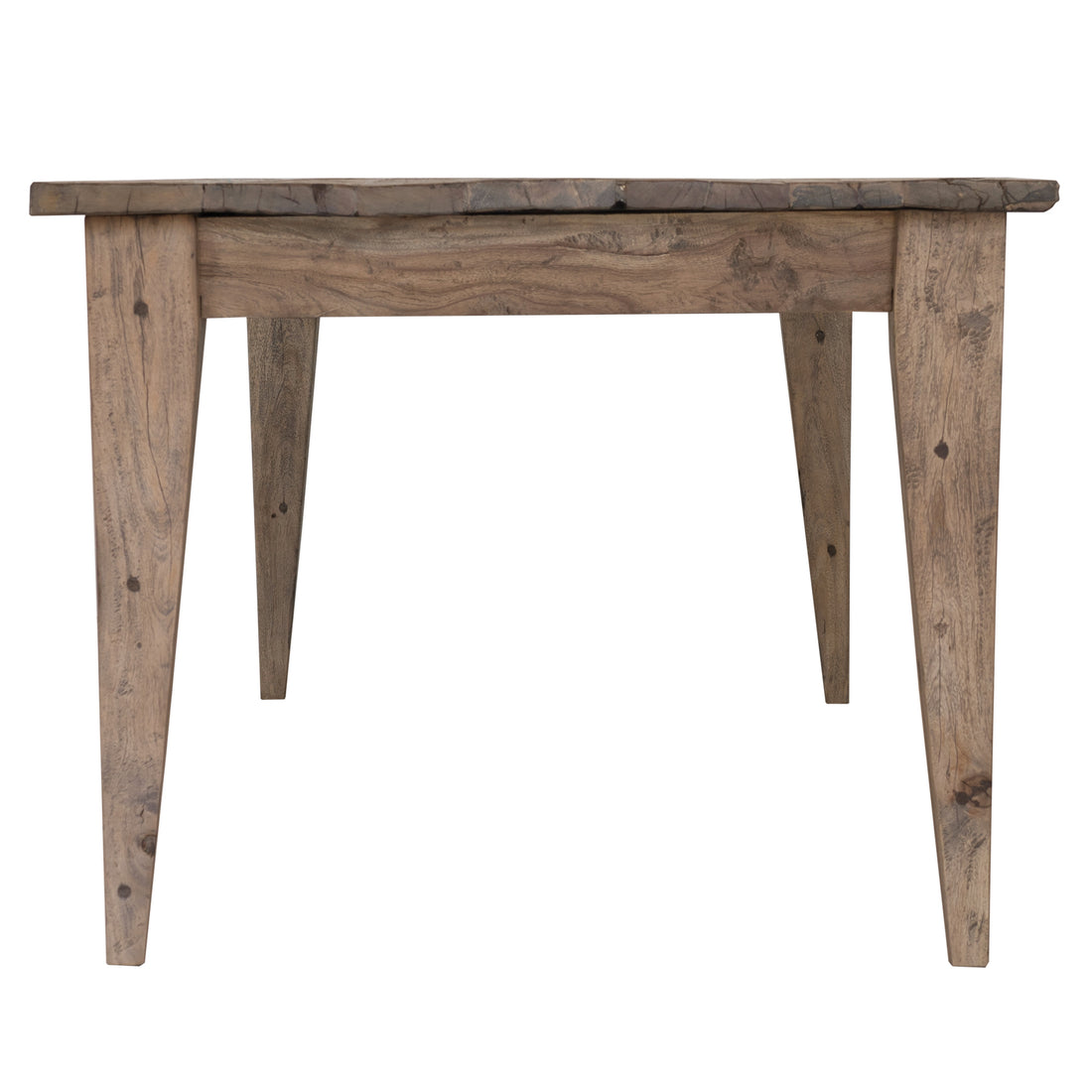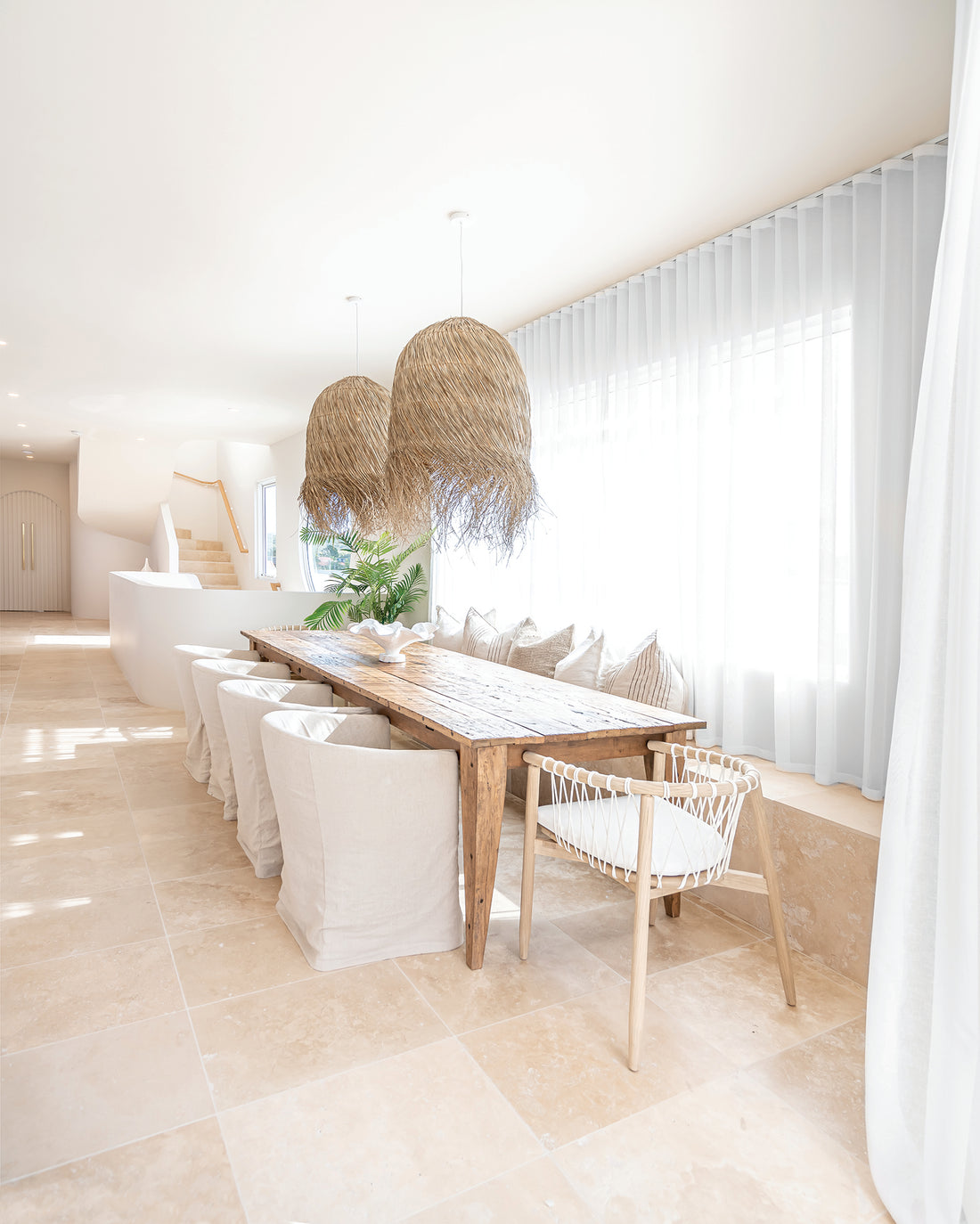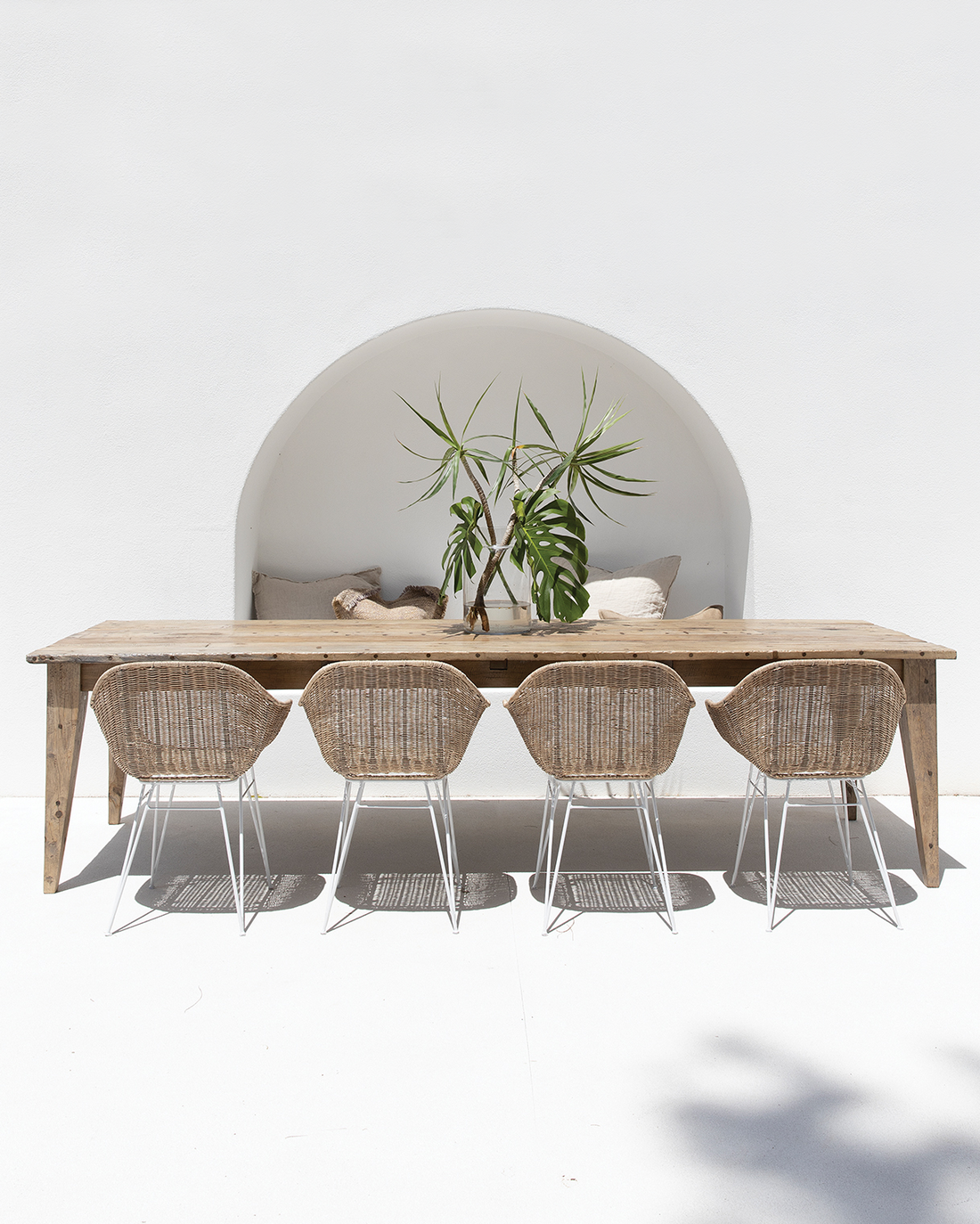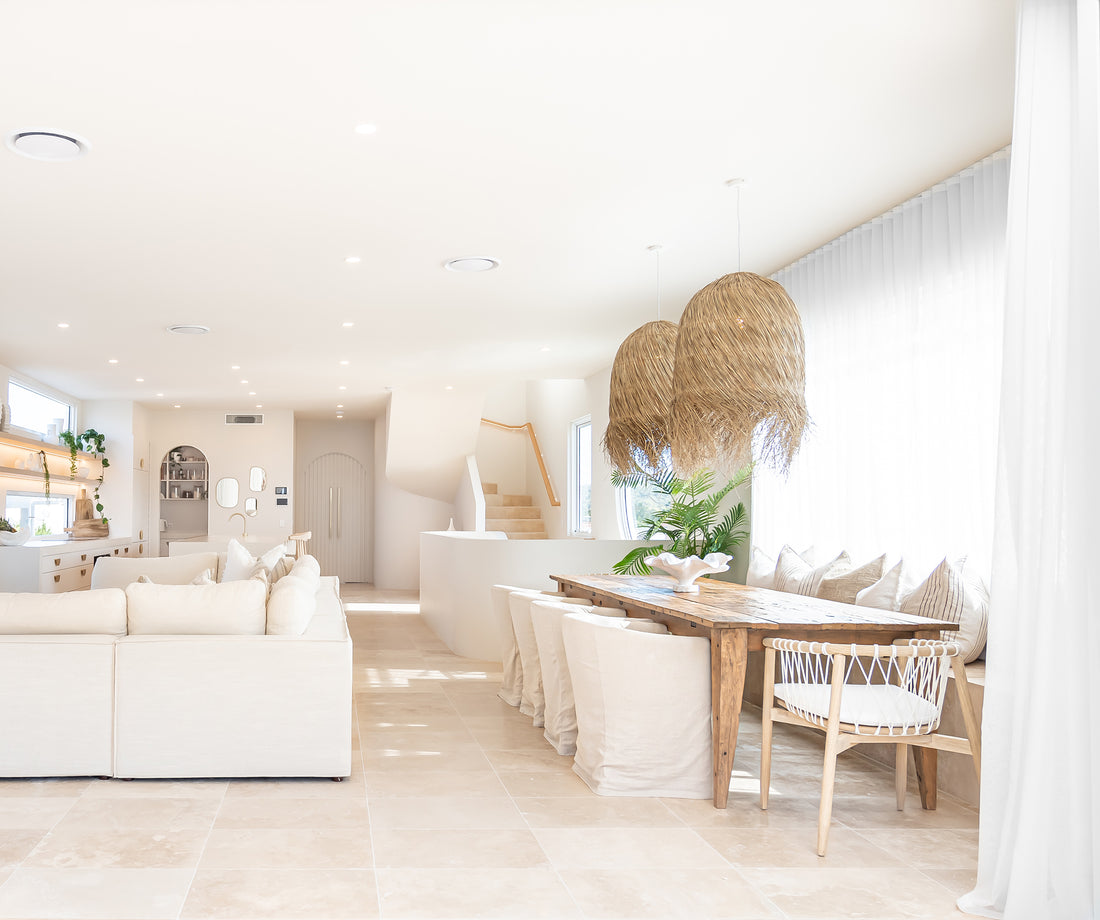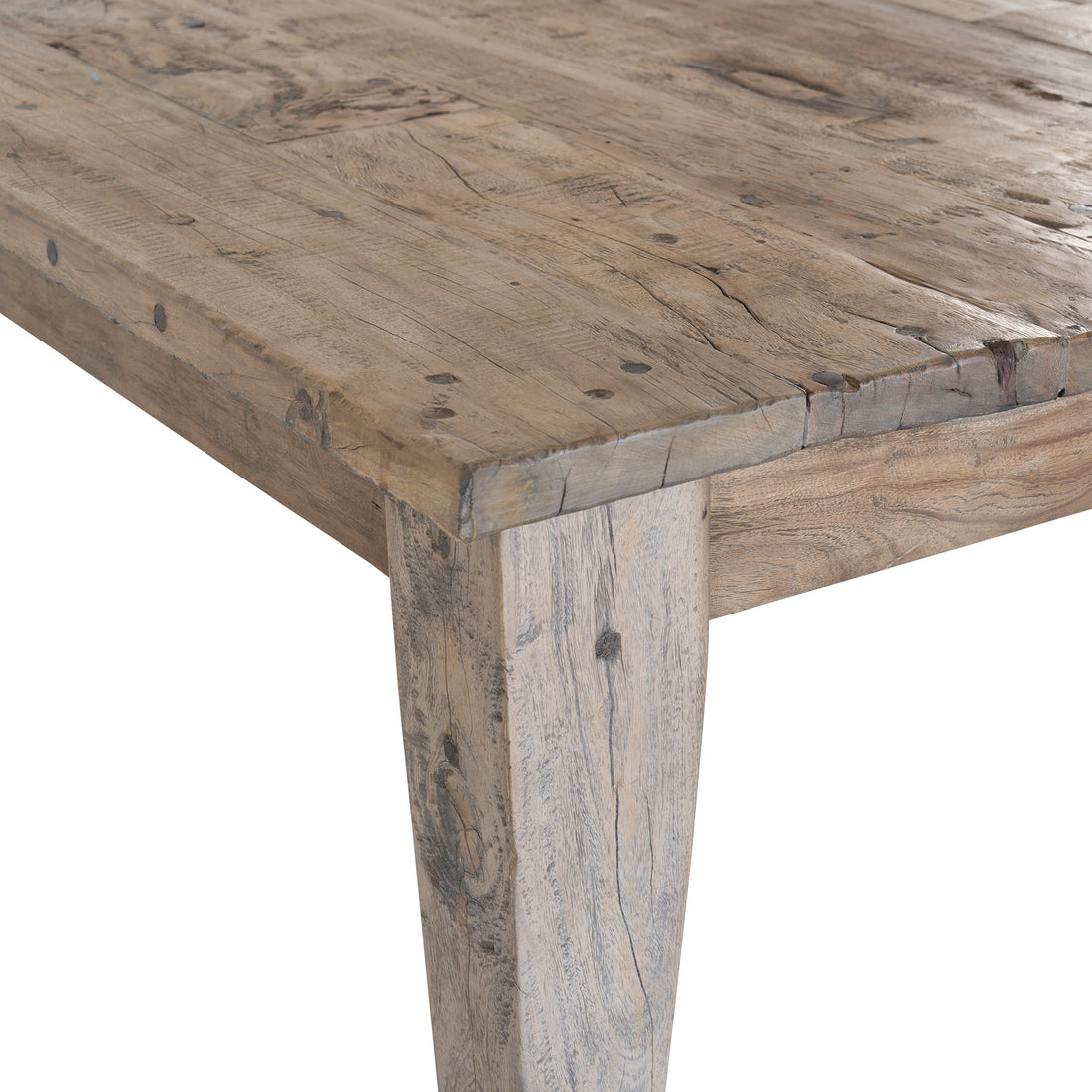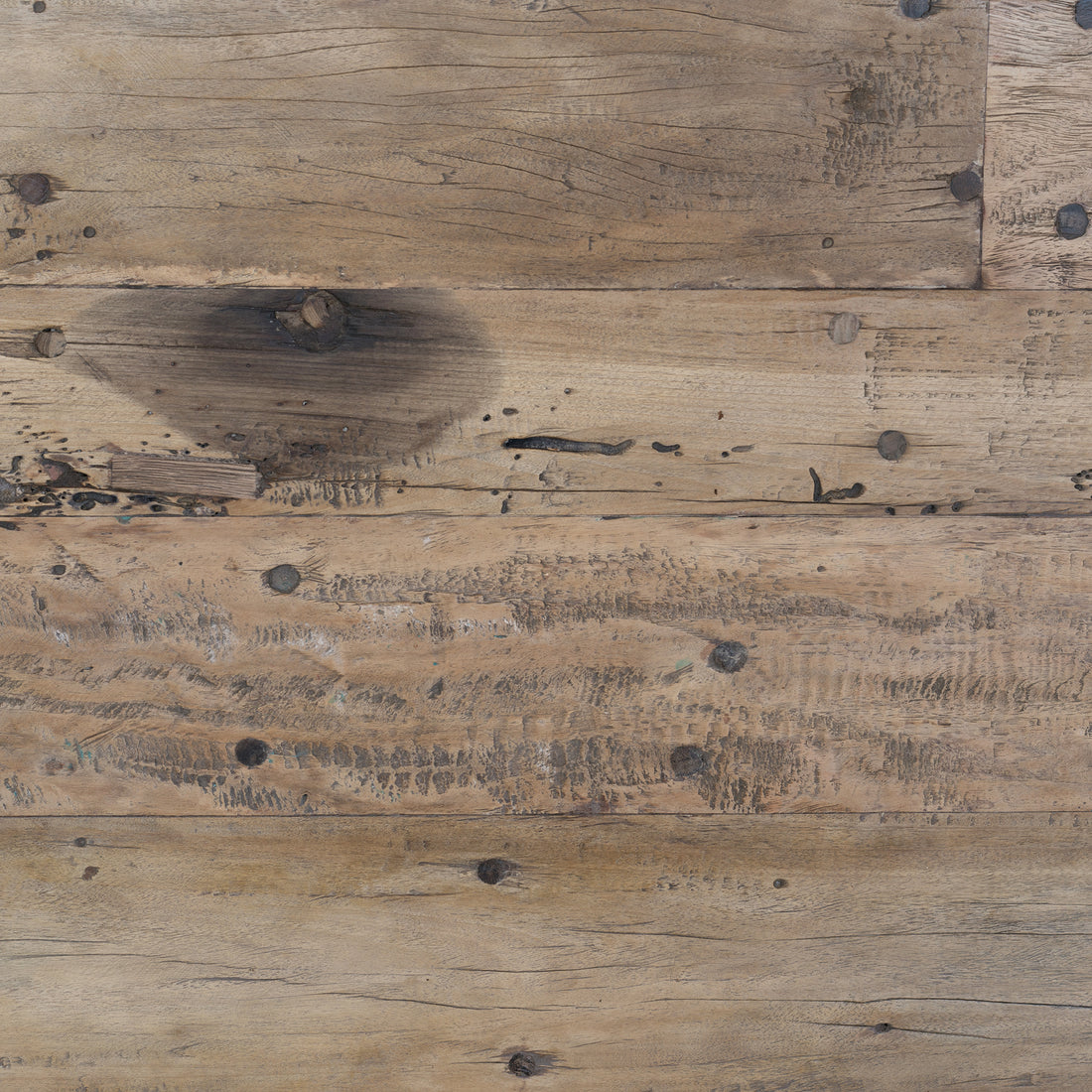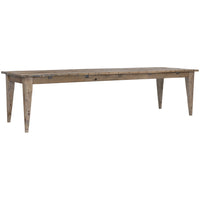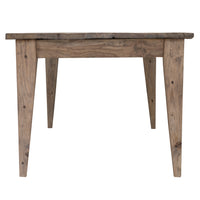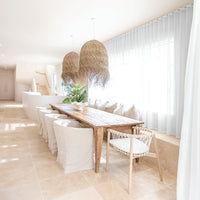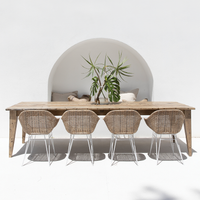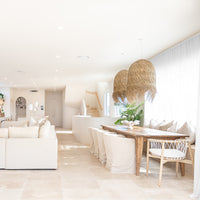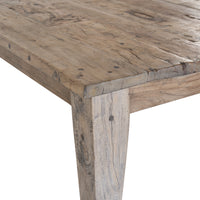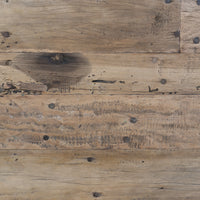 Sharman Dining Table
Trade Clients: Please login to view price
Product CodeCH-03
DESCRIPTION

SPECS

CARE INSTRUCTIONS

MOULD ON FURNITURE

NATURAL MATERIALS
The Sharman Dining Table is a unique piece of hand-crafted workmanship.
Made from reclaimed marine teak with square, tapered feet.
The teak is salvaged from old fishing boats sailed by Sulawesi fishermen in remote Indonesian islands. The teak boats provided extreme hardness and resistance to rough southern oceans.
Every single timber board used at the top of this table has been part of a fishing boat in its previous life. 
Distressed as only age and the elements can impart, the rough-hewn planks are carefully hand-selected, planed and lightly sanded yet otherwise left untouched. Each table is a celebration of authenticity and uniquely one of a kind.
This unsealed, reclaimed teak includes distinctive nicks, splits, cracks, knots, nail holes, patches and imperfections that speak to the wood's age and provenance.
This item is artisan-crafted with meticulous care. Given its handmade and hand-finished nature, variations and imperfections in the wood are to be expected and celebrated. Each salvaged item is an original, and no two are exactly alike.
The Sharman Dining Table is available in three lengths:
W 180cm | D 80cm | H 77cm

W 220cm | D 90cm | H 77cm

W 300cm | D 100cm | H 77cm
Under Table Height 63.5cm

Reclaimed teak salvaged from Javanese fishing boats with a clear topcoat.
By their nature, unsealed salvaged wood planks may be somewhat uneven and may develop small cracks and cup or bow over time due to changes in the home environment, including temperature or humidity.
If treated well with a thin layer of bee's wax brushed over the top quarterly to twice a year, the real beauty will be enhanced and live forever.
We do not recommend leaving any furniture outdoors without appropriate covering. We strongly advise covering all outdoor furniture when not in use to ensure its longevity and optimal performance.
Exposure to the elements, such as rain, sun, wind, and dust, can cause premature wear and tear on outdoor furniture and textiles, reducing lifespan.
Exposure to the elements, such as rain, sun, wind, and dust, can cause premature wear and tear on outdoor furniture and textiles, reducing lifespan.
By covering your outdoor furniture when not in use, you can protect it from the elements, preserving its appearance and helping to maintain its structural integrity.
Please note that outdoor furniture covers are not guaranteed against damage, and following proper care and maintenance instructions is essential to keep your outdoor furniture in good condition.
Regular maintenance is necessary to maintain the quality of outdoor furniture. To maintain timber's beautiful natural appearance and character, we suggest regularly coating it with natural beeswax to repel water.
Additionally, it is essential to periodically inspect your outdoor furniture and covers for signs of wear and tear and to replace covers as needed.
Following these recommendations, you can enjoy your outdoor furniture for years.
Premium Australian Protective & Waterproof Outdoor Furniture Covers
Having the proper waterproof and protective covering can help to protect furniture from the harsh climate. The Cover Company's premium outdoor covers will ensure outdoor furniture enjoys better longevity and avoids unnecessary damage or fading. The Cover Company offers customised covers for our full outdoor range. Find the right cover for your pieces here.
Humidity causes mould to grow. Limited airflow and moisture create a microclimate for mould to develop. In some cases, mould will begin growing on furniture, clothing and other contents within the home.
In instances when this occurs, it is not an inherent fault of the furniture, clothing and other contents; rather, humidity or dampness in the air can supply enough moisture for mould growth on any surface. Mould can occur anywhere, and humid climates provide the optimal conditions for the fungi to grow and thrive on any surface.
Every Uniqwa piece has a story…
Our collections are mostly individually hand-made pieces. As most of our products are made from natural materials, texture, colour, and pattern may vary from piece to piece. Reclaimed timbers, naturally weathered materials and off-cuts otherwise discarded are frequently part of Uniqwa design features.
Natural splitting, cracking, and loss of natural oils may occur and form part of the characteristics and beauty of Uniqwa products. These are not viewed as imperfections or faults but as part of timber's natural life and beauty.
We believe the result of using natural materials and hand-crafted elements is a testament to the unique qualities found in materials originating from nature.
As every monitor displays different colour tones, the colour of pictures on our website and social media cannot be taken as a true colour indication of the actual products. Some product tones may appear to vary from catalogue or website images.
How to buy
Uniqwa trade clients can order via email to orders@uniqwacollections.com.au or call our team on 07 5596 0884
General Public can purchase Uniqwa Collections through authorised design professionals and in selected furniture & home decor retailers Australia wide, internationally and online.
Find your nearest Uniqwa Collections' stockist here.
For further assistance please call our friendly customer service team on 07 5596 0884 or submit an email enquiry from this page.
Enquiries from outside Australia, please call +61 7 5596 0884 or email international@uniqwacollections.com.au