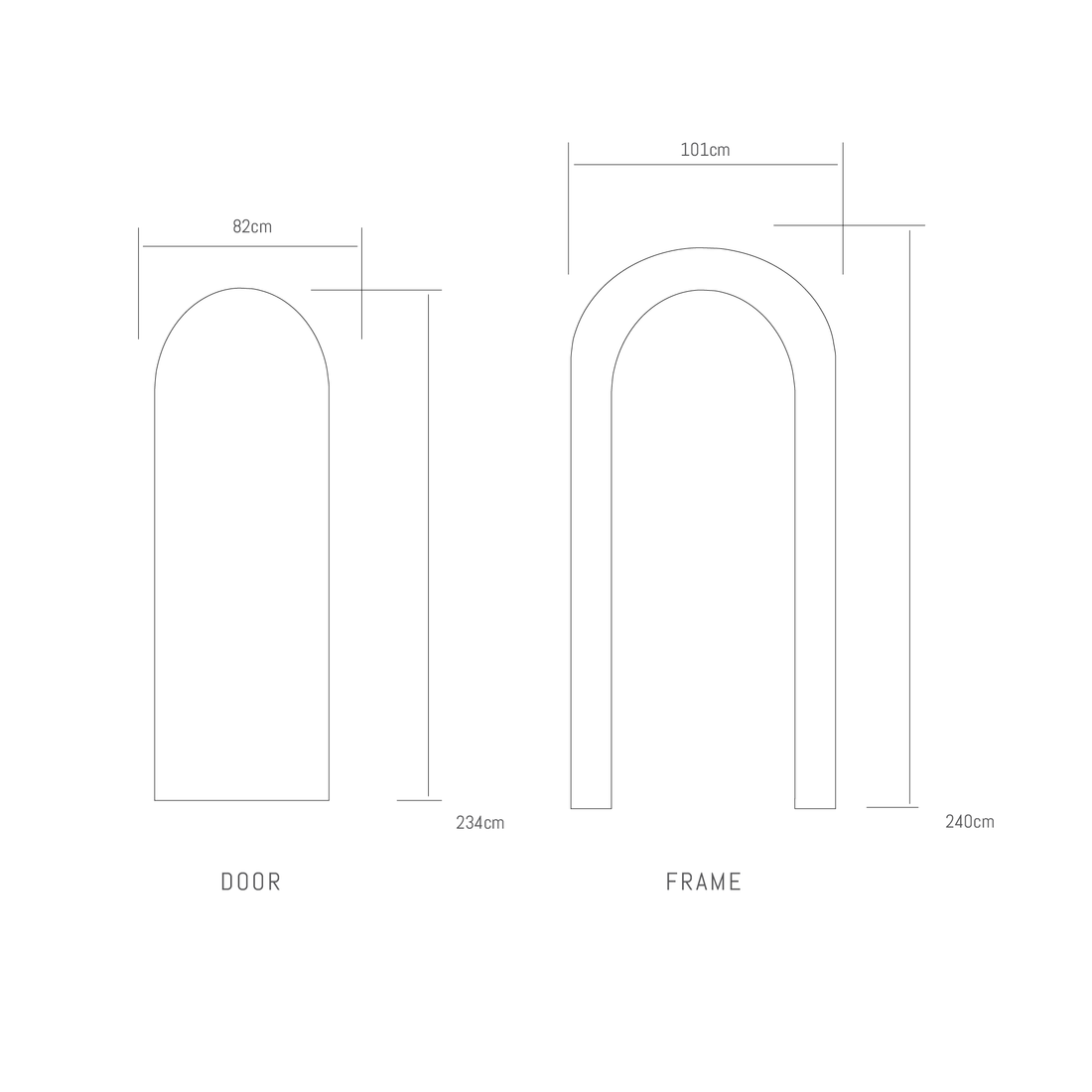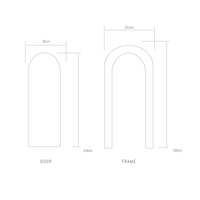 Arch Door | Tall
Trade Clients: Please login to view price
Product CodeEV-433
DESCRIPTION

DOORS TERMS & CONDITIONS 

MOULD ON FURNITURE

NATURAL MATERIALS
Introducing a Uniqwa exclusive line of arch-shaped doors made from luxurious European oak.
These beautiful European oak doors are crafted to exude elegance and sophistication. With wood grain and a distinct contemporary style, these arch-shaped doors lend sophistication and grandeur to any home, a luxurious way to give a home a distinguished and timeless touch.
These arch doors are perfect for projects, big or small; whether a renovation or a new building, our collection of arched doors will be the elegant and sophisticated solution to complete any build and will add a unique addition to the space. The minimalistic design can easily integrate into any contemporary or classic living space.
SPECS
Door size: W 82cm | H 234cm | D 4cm
Door Jamb size: W 101cm | H 240cm | D 14.3cm
Made from high-quality European oak. Sealed with a topcoat for durability. To alter the finish, simple sand back to raw oak wood and complete in desired paint finish.
Door weight: 60 kg
Door Jamb weight: 25kg
Sold as a set of door and door jamb. Please refer to a professional builder for suitable hinges and door handles. 
DOORS TERMS AND CONDITIONS
Doors must be treated with care by the purchaser. Doors must be stored flat in a dry building, not in a damp, moist, freshly painted, or plastered area.
ALTERATIONS TO DOORS SUPPLIED
The utility or structural strength must not be impaired in the fitting of the door or the application of hardware
Cutting and altering the door for lights, louvres, panels or any other special details
Excessive trimming of doors to size
If in doubt, please contact us for expert advice.
SEALING AND PAINTING
To prevent undue moisture absorption or timber drying out, we recommend that immediately after fitting and before hanging, the entire door, including the top and bottom edges, receive at least two coats of paint, varnish or sealer.
Light, reflective colours are recommended for all external doors as the application of dark colours may cause bowing, twisting, shrinkage and splitting. The use of dark colours on doors exposed to sunlight will void warranty.
Semi-gloss or satin finishes are recommended for all doors. The objective of painting a door is to seal the timber; that is to prevent moisture absorption or loss. Your paint supplier should be consulted as to the number of coats required to effectively seal the door.
It is the responsibility of the owner to maintain an ongoing adequate seal, according to the paint supplier's recommendations to prevent deterioration of the doors. Never use two-pack or automotive paint on solid timber doors.
TIMBER VARIATIONS
Natural variations in the colour and texture of timber are not to be considered defects. Colour variation will differ with timber types. Some timber species may show natural gum veins and minor surface cracking & splitting.
GENERAL CONDITIONS
Uniqwa Collections will not assume responsibility for doors, which became defective because of failure to follow these recommendations or for hazards of shipment or storage after doors leave the control of the manufacturer. Doors must be inspected upon arrival for visible defects and all claims based thereon must be filed immediately.
Uniqwa Collections agrees to repair or replace at its option, unfinished and in the form as originally supplied and without charge, doors found to be defective within the meaning of this guarantee. Any such defects must be brought to the attention of the manufacturer promptly when discovered, and, in any event, within one year from the date of shipment by the manufacturer.
Uniqwa Collections is not liable hereunder to reimburse the purchaser for doors repaired or replaced without prior written consent of the manufacturer to such repair or replacement. A warp not exceeding 5mm on doors up to 2100 x 920 x 40, or 6mm on doors over 2100 x 920 x 40 and up to 2400 x 1200 x 40 shall not be considered a defect.
It is recommended that External Doors have a minimum of 1.2m of cover at no higher than 2.4m from the ground. Uniqwa Collections will not warrant doors that are fully exposed to the weather.
INTERPRETATION OF WARP
Warp shall not be interpreted as meaning the cupping or twisting of doors. It refers to distortion within the door itself and not to its relationship to the jambs or frame in which it is hung. Therefore, warp-exceeding tolerances noted above shall be considered a defect only:
When cupping is determined by applying a straight edge to the concave face of the door,
or
When a twist is determined by placing the door face against a true plane surface. The guarantee against warp does not apply to the following:

Doors that are improperly hung or do not swing freely.
External doors which have been painted or stained with dark colours.
Doors where closers and associated hardware are fixed in a manner that causes undue stress on the door.
Experience has demonstrated that the warp occurs after doors have been delivered to building sites; it is usually due to improper storage or adverse moisture conditions after hanging and not to faulty manufacture. Uniqwa Collections will accept no responsibility for doors where the moisture content of the timber falls below 12% or exceeds 18%. The manufacturer cannot assume responsibility for conditions wholly beyond its control. They should, however, be consulted promptly if excessive warping occurs to assist in overcoming the difficulty. Any claims should be made within fourteen (14) days of the fault arising and must be accompanied by proof of purchase.
Humidity causes mould to grow. Limited airflow and moisture create a microclimate for mould to develop. In some cases, mould will begin growing on furniture, clothing and other contents within the home.
In instances when this occurs, it is not an inherent fault of the furniture, clothing and other contents; rather, humidity or dampness in the air can supply enough moisture for mould growth on any surface. Mould can occur anywhere, and humid climates provide the optimal conditions for the fungi to grow and thrive on any surface.
Every Uniqwa piece has a story…
Our collections are mostly individually hand-made pieces. As most of our products are made from natural materials, texture, colour, and pattern may vary from piece to piece. Reclaimed timbers, naturally weathered materials and off-cuts otherwise discarded are frequently part of Uniqwa design features.
Natural splitting, cracking, and loss of natural oils may occur and form part of the characteristics and beauty of Uniqwa products. These are not viewed as imperfections or faults but as part of timber's natural life and beauty.
We believe the result of using natural materials and hand-crafted elements is a testament to the unique qualities found in materials originating from nature.
As every monitor displays different colour tones, the colour of pictures on our website and social media cannot be taken as a true colour indication of the actual products. Some product tones may appear to vary from catalogue or website images.
How to buy
Uniqwa trade clients can order via email to orders@uniqwacollections.com.au or call our team on 07 5596 0884
General Public can purchase Uniqwa Collections through authorised design professionals and in selected furniture & home decor retailers Australia wide, internationally and online.
Find your nearest Uniqwa Collections' stockist here.
For further assistance please call our friendly customer service team on 07 5596 0884 or submit an email enquiry from this page.
Enquiries from outside Australia, please call +61 7 5596 0884 or email international@uniqwacollections.com.au